News & Events

04/09/2022: 2022 Annual Meeting Update
The annual meeting of the Baraga County Federal Credit Union was held at the L'Anse American Legion on March 25, 2023. You can download a copy of our 2022 Annual Report here.
Accepting Bids
Coming soon
For Sale
Nothing at this time.
_________________________________________________________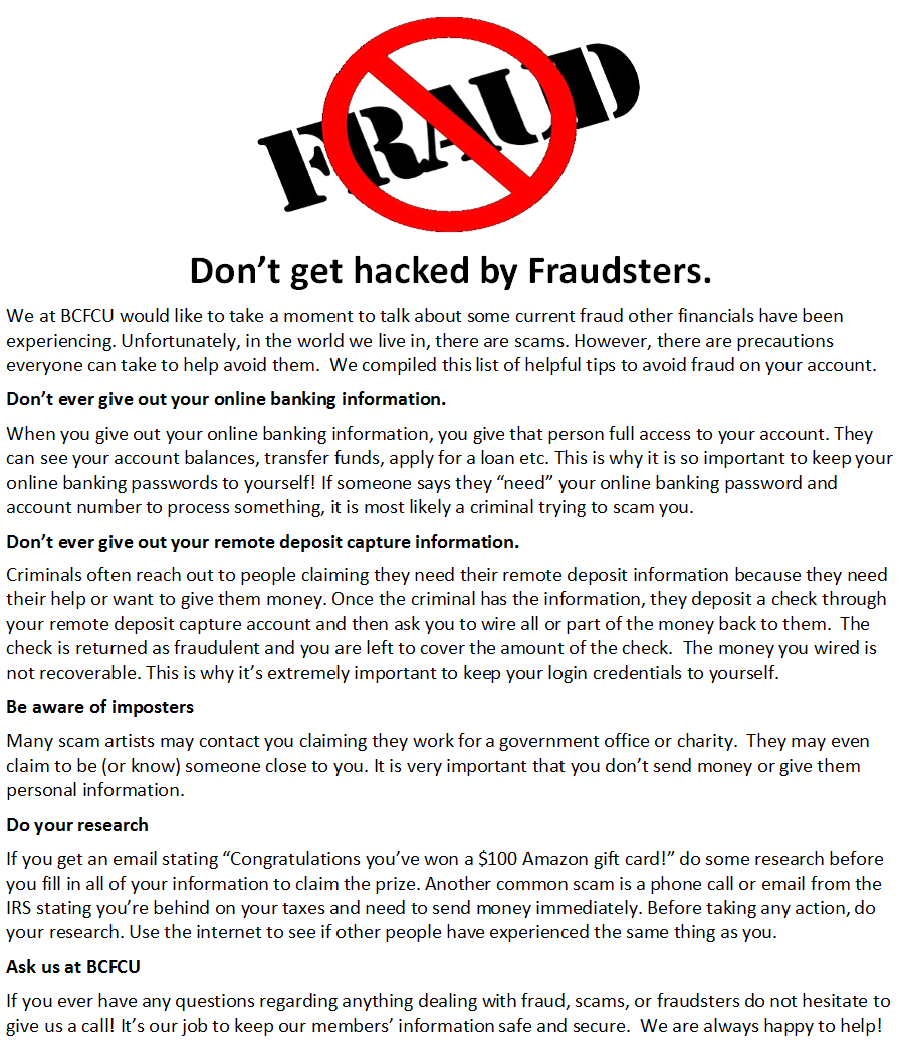 Our MOBILE APP is now available!
You can download our app from the Apple store or Google Play, depending on the kind of device you have. The app is called the Baraga County Federal Credit Union Mobile app. You are able to find it by searching the whole name or just a word or two.

Debit Card Fraud Management
If suspicious transactions are identified, you will receive a call from Card Member Security. If the transaction(s) is fraudulent, you will be transferred to a live person at Card Member Security to help you take the necessary precautions to protect your cards and related accounts. If the recent activity is legitimate, members will be able to close the case with the phone attendant using their touch-tone phone.
As always, when the Fraud Center calls you to confirm transactions, they will not ask for any personal information, nor will they ask for your entire card number.
If you have any questions, please contact us at (906) 524-6151.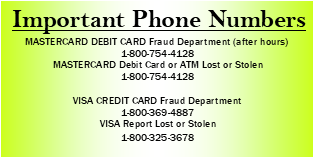 Beware of Phishing Attacks
Phishing is not a new scam; we have heard of it for years. Criminals use e-mail, telephone, and text scams to obtain an unsuspecting consumer's personal information. Once a criminal has this information, he or she will use it for personal gain, including identity theft.
A couple years ago, financial institutions have reported phishing text scams which include an automated text to cell phone holders. The generic message may read, "Federal Credit Union ALERT: Your CheckCard has been temporarily LOCKED. Please call Card Services line (407) 574-2992." DO NOT CALL THIS NUMBER; this is a phishing attempt. At this time, Baraga County Federal Credit Union does not participate in text messaging or e-mail to notify members of suspicious transactions.
Please remember to verify who you are speaking with. Baraga County Federal Credit Union will not ask for personal information when calling to verify transactions.
We have a third party track suspicious transactions; if you receive a call from Cardmember Security, they will only ask for your name. If you return a call from them, they will only verify the last four digits of your Social Security Number and/or your Date of Birth. If you receive a suspicious call or do not feel comfortable speaking with Cardmember Security, please contact the Credit Union as soon as possible.
Finally, if you suspect your card has been compromised, contact the Credit Union immediately.
Youth Scholarship
More information on the Services Page